2018.07.01 - 2018.07.31
Elisabeth Belliveau
[Canada ]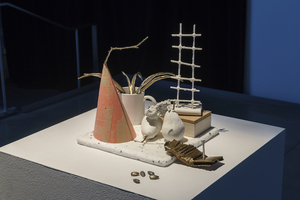 Elisabeth Belliveau is a Canadian artist and author of four graphic novels. Her current work involves frame by frame stop-motion animation and sculpture. She explores intersections of sculpture and the moving image in dialogue with digital tools, employing high and low materials and technologies to investigate how materials perform. Rooted in the tradition of still life and vanitas her research takes the form of animated spaces and materialized transformations.
Short summary of residency plan:
At Youkobo, Elisabeth will work on a new stop motion animation inspired by the traditional Japanese flower arranging practice of Ikebana. She will take Ikebana classes and use stop-motion a????nimation to capture the ephemerality, composition, colour, balance, and symbolic aspects of Ikebana. The animated motion will be influenced by Noh theatre timing and movement. She intends to screen her animation and display the accompanying sculptures at the end of her residency.