2018.10.01 - 2018.11.30
Saara Ekström
[Finland]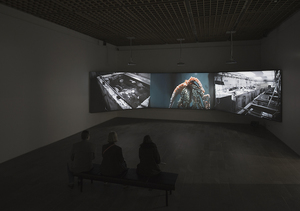 Saara Ekström works in film, photography, text and installation, and experiments with diverse medias to achieve captivating experiences. Various images are combined to create worlds, where reality and fiction, growth and withering, the seductive and repulsive challenge each other. Ekström is interested in natural and artificial materials that embody strong symbolic values and examines the significance of transformation, while questioning our conventional ways of classifying matter. The levels of time nurture and erode, as the valuable turns into trash and the insignificant transforms into something treasured. The weight and weightlessness of time, together with the ambivalent desire to both remember and forget, are all at the core of Saara Ekström's art.
Ekström has participated in several national and international exhibitions. In 2018 she was honored to receive the Finnish media price, AVEK-award. Ekström's extensive solo exhibitions have been shown at the Bildmuseet, Wäinö Aaltonen Art Museum, Kiasma Museum of Contemporary Art, Nordiska Akvarellmuseet and Amos Anderson Art Museum, among others. Her works are represented in collections in Finland and internationally.
At Youkobo Art Space Saara Ekström will make an analogue 8mm film where macro images of synthetic and organic materials blend and plastic becomes a part of our DNA. During her residency Ekström will also start a new film project focusing on insects and their significance.