2018.12.04 - 2019.01.31
Svetlana Fialová
[Slovakia]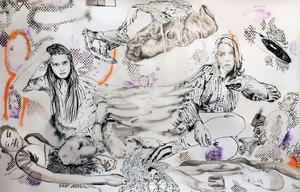 In her practice, Svetlana Fialová continually develops drawing as a medium, while she tries to push its customary boundaries and confute speculations about its exhaustibility. Fialová likes to appropriate formal features of national and world history of fine arts and blend them with current visual trends. Usually, her own life and stories come to the thematic foreground alongside such topics as (self) mythology, irony, pop culture, feminism, gender and body image. Spontaneous inspiration from media and everyday banality mixes with a deep, harsh self-criticism, the boundary between which blurs and subsequently turns into two viewpoints of the same thing. Compositionally multilayered works that are full of specific iconography and immanent metaphors are often shrouded in mystery with a strong psychological profile.
During Svetlana's residency at Youkobo Art Space, she'd like to discover more about the social structure of Japanese society, and the role and status of women in-particular. This work would be coupled with her ongoing artistic research into the sources of male supremacy, gender stereotypes, etc. She wants to both interact with local residents and also freely observe and perceive the everyday reality, digging deeper into various layers of Japanese pop culture and its representation of women contrary to, or in close relationship with Western pop culture and visual culture.
The residency is supported using public funding by Slovak Arts Council.
| | |
| --- | --- |
| Date | 2018.12.04 - 2019.01.31 |
| Place | AIR-1 |