2019.10.01 - 2019.11.30
Clinton King & Julie Curtiss
[USA]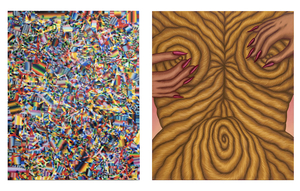 Artists Profile:
Clinton King is an artist living and working in Brooklyn, NY whose practice extends to a multitude of mediums, spanning sculpture, video, and painting. Clinton's art focuses on notions of attraction and repulsion, the suspension of belief, its conception, degradation, and reformation. His current body of work focuses both on painting and video, with paintings that deconstruct and shatter composition, brushstroke, color, and form, while simultaneously compressing and reassembling into an intricate aggregate. His video works also reflect this severed and hewn amalgam; hypnotically weaving fractures seconds, viral videos, memes, gifs, and found footage at a mesmerizing pace.
In her paintings and sculptures, the Brooklyn-based French artist Julie Curtiss enjoys associating humour with darkness, the uncanny and the mundane, grotesque shapes to vivid colours. She works with ideas of narration from her imagination to create psychological artworks that raise questions without an answer. She conjures abnormal situations that deal with different aspects of the female identity as well as the opposite notions of nature and culture.
Residency Plan:
In 2005 Clinton began two video projects that involved collecting and compiling thousands of found videos. At Youkobo Art Space he will continue editing his ongoing project alongside creating new "spectrum" paintings.
Both works are a study in the transition, exploring the gap between analog and the digital, and focusing on the breakdown, and reunion of communication through visual language.
While in residence at Youkobo art Space, Julie will focus on the technique of gouache on paper, continuing a long lasting series in color and debuting a new black and white body of works as well. She will also experiment with sculpture, using local objects and materials. She is especially interested in Sampuru, the Japanese plastic food models and the idea mimesis.
Events
11.03(sun) - 23(sat), 2019 Youkobo studio2 "TANDEM / tandem"(12:00-19:00|Mon & Tues Closed last day till 17:00) Hazuki Hall House at the Zempukuji Park "Artist in Zempukuji"(12:00-18:00|11/5(tue)・11(mon)・18(mon) Closed)