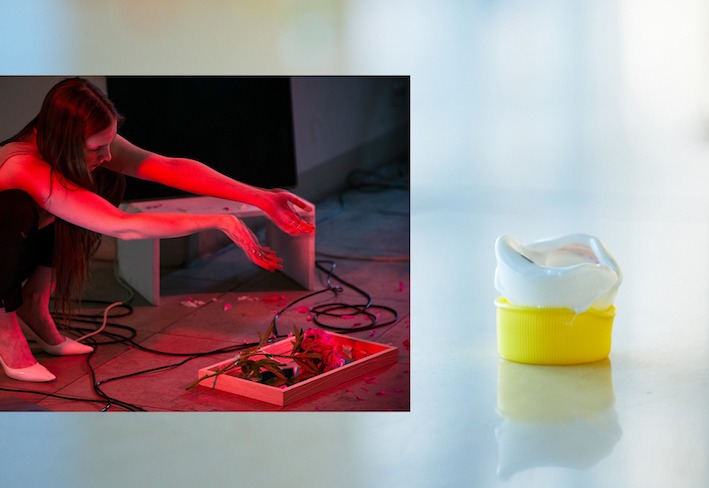 Daria Blum, Yohei Chimura [Switzerland(UK)、Japan]
2019.07.25 - 2019.07.28
Daria Blum and Yohei Chimura will be having a show to mark the end of their London/Tokyo Y-AIR Exchange Program Residency! Don't miss it!!

Daria Blum http://www.youkobo.co.jp/air/2019/06/daria-blum-1.html
Daria Blum is the protagonist of her own work, embodying different characters as she considers the awkwardness of performance in the context of art, dance, theatre, and in the banality of day-to-day situations and interactions. Her live performances and video installations implement different styles of movement and dress, texts and music she composes, thematising conflicts in self-representation and in the use of the performing (female) body. Informed by her own fallibilities and investigations into trans-generational trauma, the narratives of her personas strive to prove the status of suffering as driving forces in creative and (re-)generative processes, contrasting dynamics such as audience and performer, humour and tragedy, truth and fabrication.


Yohei Chimura http://yoheichimura.secret.jp/

Born 1984 in Chiba prefecture, Japan. Studied Metal Casting at Tokyo University of the Arts. He also studied Glass Arts at Toyama City Institute of Glass (Japan) and at Pilchuck Glass School in USA before receiving a PhD in Glass Art from Tokyo University of the Arts in 2015. Through sculpture, installation and performance, his work expresses the preservation and release of forms that transcend humanity. Recent shows include solo exhibition ≠ the world, Chiba City Foundation (2019) and NGI #1, Toyama City (2018).

*They will participate the London/Tokyo Y-AIR Exchange Program 5th Anniversary Exhibiton "Ai mi Tagai" in Ueno.
Events
7/25 Reception 18:00-20:00, 19:00-Performance