2017.10.01 - 2017.11.30
Mika Nakamura-Mather
[Japan/Australia]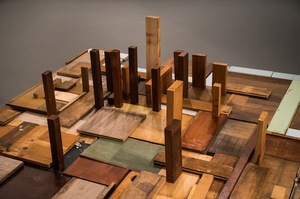 Born in Japan, Mika is a graduate of the Queensland College of Art in Brisbane, Australia. She holds a BA Fine Art with First Class Honours and has recently completed her Doctor of Visual Arts degree. She received the Griffith University Academic Excellence Award in 2009, 2010 and 2011 and undertook a 3 month residency at Tokyo University of the Arts (Geidai) in 2015.
Her work explores the idea of what 'home' means to us as individuals and cultures. She is particularly interested in the process of memory and the fragmentary glimpses of our past that form the route markers of our personal history. Memories are by definition incomplete, smaller parts of a greater whole that have become disconnected from the flow of narrative structure by the passage of time, and her work investigates whether a particular material - timber - can help uncover, or recover, an individual's connection to that narrative.
The opportunity to live and work in Tokyo (once more) for an extended period of time will allow Nakamura-Mather to gain insights into the moments and minute detail of everyday life that are the fundamental building blocks of identity and belonging. Whilst in residency, she will produce work for a solo exhibition at Youkobo and collaborate with local people on a sculpture piece for the Trolls in the Park 2017 event in Zempukuji Park.