2017.10.02 - 2017.11.30
Maija Luutonen
[Finland]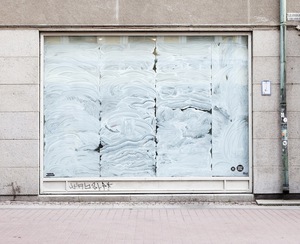 【Exchange Program】Finnish Artists' Studio Foundation×Youkobo Art Space
Maija Luutonen (b. 1978) is a visual artist based in Helsinki, who primarily works with painting on paper. Often examining the attributes and expanding the limits of the medium, her work simultaneously deals with two-dimensionality and spatiality, as well as the very notion of representation. This exploration extends to the surface of the paper, sometimes handled as a relief in which her markings bring forth shapes from the reverse side.
Her practice often narrates around spatial immersion, our relation to built environment, nature and all its scales. In more recent work she focuses on the oscillation between anxiety and ecstasy in times of constant input, on encrypted subjects and strange weather.
Reflecting on spatiality through an otherwise flat surface, the artist deals with notions of seemingly enclosed spaces, or rooms; where we live, where we look out, where the material and digital more and more seem to merge, where art is presented.

At Youkobo Art Space, Maija is going to be conducting research for her upcoming publication. She will also be planning and making new works for her upcoming exhibition in Helsinki in February 2018.
A lot of the aspects of her recent work like the scrolls, wearable paintings, large surfaces constructed on paper draw from Japanese traditions as well as her own background and contemporary questions. During her time in Tokyo, she is planning to conduct research and visit the locations and museums holding some important items as well as familiarizing her self with the Japanese use of paper.