2018.05.01 - 2018.06.30
Lynn Cosyn
[Luxembourg ]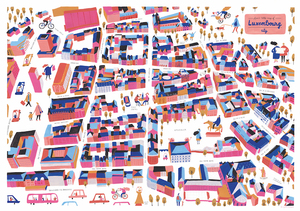 Lynn Cosyn is an artist from Luxembourg and has reached popularity with her uniquely quirky hand drawn illustrations full of whimsical feel and peculiar characters.
She studied architecture and worked in an office after her graduation. Realizing that she was not able to express her artistic side enough in this environment she switched professions and worked since 2016 as a self-taught illustrator.
Lynn's aim to produce dreamy and poetic imagery for all generations is greatly supported by her approach to illustration:
Directly drawing inspiration from her surroundings, she simplifies scenes from her daily life in a charming and at the same time humorous way. The technical aspects of her work are defined by hand-drawn elements, full of painterly textures and reduced color palettes, using mostly gouache, ink and pencils.
The characteristics of a hand-drawing leads to a very personal and less detached body of work compared to a digital drawing. The limited number of colors helps the observer to focus directly on the simplified subjects of her drawings and their arrangements. An instant moment of recognition and understanding is created!
Short summary of residence plan:
During her stay at Youkobo Art Space, Lynn anticipates using the first two weeks of her residency to absorb the culture and to create a "visual diary" of her life in Tokyo.
How objects, people and architecture are interrelated will be the leading question to develop a large volume of work. She envisions to create story-telling images by breaking down complex ideas or observations into subjects of simple naivety.
Similarly to her first exhibition in Luxembourg in November 2017, Lynn will document everything she sees and experiences. By drawing themes that are eventually new to her, she wishes to achieve a deeper understanding of the local life and culture.