2019.08.01 - 2019.09.30
Franck Miltgen
[Luxembourg]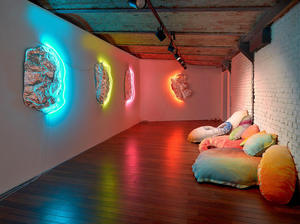 Artist profile:
Born 1981, Franck Miltgen lives and works in Luxembourg.
The question of perception, though it is of course central in art, also has the peculiarity of being one of the few preoccupations that accompanies its evolution through the ages. From the beginnings of parietal art to the codification of the rules of perspective during the Renaissance, from trompe l'oeil to the experiments of Op Art in the twentieth century, artists revisit not only the ways of representing the world and its experiences, but also shape the way we perceive and share them. This questioning of perception is very present in Franck Miltgen's works which, by their very conception, link various mediums and thus different modes of perception; however, Miltgen doubles this questioning with a broader and more ambitious reflection regarding the evolution of human perception through the ages, and the modalities of sharing the real and its experience according to place and time.
H. Feront 2018
Residency Plan:
During the artists first Japan residency, exploration will dominate. Tradition and crafts might be central, but the artist intends to impregnate his practice from a philosophical point of view. His preparative researches leaded him to develop a strong will to open up his practice even more, by shifting it into mouvement. Butoh dance might give answers, but the artist is also open to explore found places and objects leading to new paths.
Events
OPEN STUDIO「Apeiron」2019.09.18 - 22
Reception:18 September 18:00-20:00
Performance : 22 September 19:00- more details coming soon