2019.08.01 - 2019.09.30
Helena Kaikkonen
[Finland]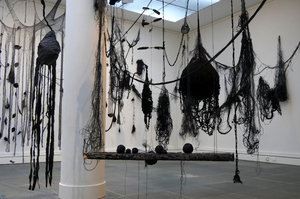 Artist profile
In her material-oriented artworks, textile artist Helena Kaikkonen (1959) explores time, northern nature, and the fragility?and power?of life.
Change and repetition set the pace for the seasons and the everyday life of human beings.
Time passes, things move on, yet nothing is ever final or complete.
"Where I have found my materials and where they come from, the traces of time that they carry and how delicate they feel are very important to me. I have often said that I think with my hands. The textures of the materials in my fingertips guide my thoughts."
Short summary of residence plan
The work of textile artist Helena Kaikkonen are based on materials.
The origin of the materials and their past life affect the content of her art works.
At Youkobo Art Space Kaikkonen wants to explore history, culture, nature and life in Japan.
Based on these encounters, she will make different material collages.
She will combine old Japanese textile traditions, natural materials and other recycled materials. She is also interested in Japanese paper and silk traditions, and she intends to learn Japanese bookbinding techniques and incorporate them into her work.