2019.12.01 - 2020.01.31
Benjamin Woods
[Australia]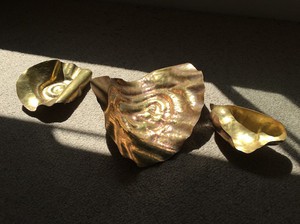 Benjamin Woods was born in Melbourne, Australia (Wurundjeri and Boon Wurrung country) in 1988, and grew up with two older sisters, who were both role models for a creative life. Because of this environment, Ben got on the path to become an artist early. He studied piano, flutes, double bass, and singing. This was a joy. He then began to also enjoy visual arts; and studied painting, drawing and sculpture. After studying sculpture at university, he began publicly sharing artwork from 2011 onwards. Ben is interested in how sculpture relates to bodily awareness, especially regarding the spatiality of care and closeness between people and their milieus. This interest often presents itself in sonic and movement investigations of sculptural forms.
My time at Youkobo will be exploratory. I intend to carve and assemble wood, fashion wax forms, hand form metal, and write a research paper about listening. I also intend to attend exhibitions and performances in Tokyo and visit places according to research leads. My initial proposal included an interest in witnessing the live work of several Tokyo-based artists. One artist is Akio Suzuki, who is a devoted practitioner of listening. Published interviews with Suzuki are key texts for my writing intention. Alongside Suzuki, I have been reading Jean-Luc Nancy's text Listening, and Yasuo Yuasa's text The Body. While in Japan, I will have the opportunity to produce works in a cultural milieu where sculpture is generously present in everyday life. I wish to emphasise that it is the effect of sculptural artwork in the outside shared world (to air) to which I am most drawn. The sculpture resting on the doorstep. The painting visible through the window. The dance of bicycles. My attention will be on spaces of care and closeness, experienced with the sculptures I make, the places I visit, and the conversations with folk I meet along the way.
I would like to acknowledge the support of Monash University for this residency opportunity.