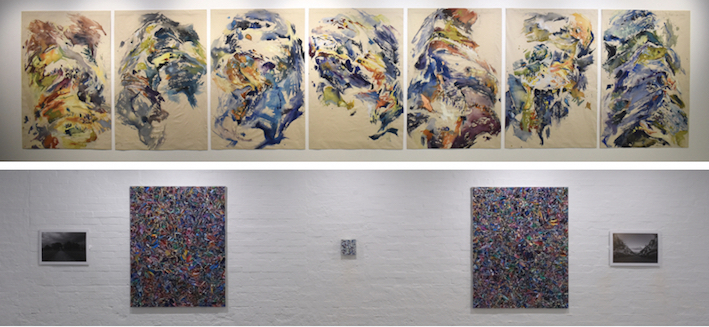 Anne Kagioka Rigoulet, Akira Ishiguro [Japan]
2020.02.19 - 2020.02.23
We are pleased to announce an exhibition by two artists, Anne Kagioka Rigoulet and Akira Ishiguro who took part in our exchange program between Youkobo and overseas AIR in 2019. Kagioka stayed at
Annexes de Bourglinster
in Luxembourg from July to September, Ishiguro stayed at
studionAme
in Leicester, UK from September to November.
Both artists will hold a report presentation on 22nd(sat) 16:00-, and after that we will have a reception together with artists who stay and show at Youkobo.
Anne Kagioka Rigoulet
Born in 1987 in Kanagawa, Japan, Kagioka completed a B.F.A. in Oil Painting in 2011, followed by an M.F.A. in Mural Painting in 2013, at the Tokyo National University of Fine Arts. Kagioka went on enroll in Fresco and Mosaic at the École Nationale Supérieure des Arts Appliqués et des Métiers d'Art in Paris. Her solo exhibitions include "A Moment of Immersion", Sakurado Fine Arts (Tokyo, 2018) and "Anne Kagioka Rigoulet", Sakurado Fine Arts (Paris, 2014/Tokyo, 2015). She has also participated in various group exhibitions and mural projects in Japan and Europe.
http://annekagioka.com/
Akira Ishiguro
Ishiguro is a self-taught artist whim began his career in 2008. When he was painting the faux-marble surface as an artisan, he was interested in the uncertainty of the concept of "Genuine" by painting "Fake". He presents his artworks that delve into "the interval of the torsion of the truth and falsehood" from a unique perspective on the surface. In recent years, he has made the Marblesque painting series depicting the landscape of Anthropocene, as the surface of a new stratum age.
Events
22 February 16:00-18:00 Presentation, 18:00-20:00 Reception