2013.08.28
AIRs vol.3 Open Talk about Artist in Residence 2013.8.24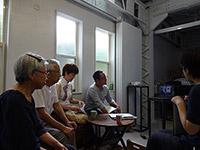 「アーティスト・イン・レジデンスのほんとうのはなしAIRs vol3 遊工房アートスペース⇔Sa Sa Art Projects」
開催日時:2013.8.24(土) 13:00-15:00 会場:遊工房アートスペース(東京) /Sa Sa Art Projects(プノンペン,カンボジア) /NY
参加者:村田達彦、弘子(ディレクター)、日沼禎子(女子美)、池田哲(モデレーター)、椛田有理、針谷美香 (遊工房アートスペース)
SSAP:Lyno Vuth (創設者+アーティスティックディレクター) /NY
     Sokchalina Lim (創設者+レジデンスマネージャー)
Dara Kong (アシスタント)、 太田エマ /プノンペン、カンボジア          
遊工房アートスペースとカンボジア・プノンペンのWhite building内に設立されたSa Sa Art Projects(以下SSAP) 、そしてNYに滞在中のSSAP創設者の一人Lynoさんとのskypeセッション「アーティスト・イン・レジデンスのほんとうのはなし」を開催いたしました。SSAPには太田エマ(遊工房スタッフ)がリサーチャーとし滞在しており、現地の生の声を届けてくれました。設立間もないSSAPの若きアーティスト兼創設者たちとの活発な意見交換が行われ、決して恵まれてるとは言い難い環境下で、地域の子供たちとのワークショップ、またパブリックアートイベントの開催等プノンペンのコミュニティーにしっかり根付いた彼らのアート活動から、アーティストがコミュニティーを引っ張って行くという気概を非常に感じることが出来、大変有意義な「ほんとうのはなし」になったのではないでしょうか。
SSAP:http://www.sasaart.info/
Open Talk about Artist in Residencies vol3 - Youkobo Art Space⇔Sa Sa Art Projects
Date & Time: 24.8.2013 (Sat) 13:00 - 15:00 Venue: Youkobo Art Space (Tokyo) / Sa Sa Projects (Pnom Penh, Cambodia) / NY
Participants: Tatushiko Murata, Hiroko Murata, Keiko Hinuma (Joshibi University of Art & Design), Satoshi Ikeda (moderater), Yuri Kabata, Mika Harigai (Youkobo Art Space)
SSAP:Lyno Vuth (founder+arttistic director) /NY
Sokchalina Lim (founder+residence manager),Dara Kong (assistant),
Emma Ota /Pnom Penh , Cambodia
An open talk about Artist in Residencies was held in the form of a skype session between Youkobo Art Space, Sa Sa Projects (SSAP) which was established inside White Building housing estate in Pnom Penh in Cambodia, and one of its founding members Lyno who is currently based in New York. Youkobo staff member Emma Ota is currently in residence at SSAP to conduct research, and also joined the discussion to offer her thoughts on site. A livley exchange of opinions took place between the young artists and founders of the still young SSAP organization, and their strong spirit which is helping to lift the community could really be felt in art activities including children's workshops and public art events which are taking place in an environment by no means favorable to such activities. The result was a truly meaningful "open discussion".