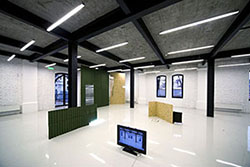 Manabu KANAI [Japan]
2014.03.05 - 2014.03.09
◆"Thank You Art" Day◆
At Youkobo Art Space, an exhibition by Kanai Manabu will be held to present his activities during a residency at K.A.I.R. artist in residence in Košice (Slovakia) as the second phase of an ongoing exchange program with K.A.I.R. Together with a report on his activities, an introduction to the artist exchange framework will be given by Youkobo Art Space. This will also be an opportunity for the participants to consider the possibilities of artist in residencies from various perspectives.
K.A.I.R. (Košice Artist in Residence), an artist residence program based in Košice (Slovakia) which was the European Capital of Culture 2013, and Youkobo Art Space drew up a plan in 2012 for an artist exchange program where participants undertake a 3-month residency followed by a presentation of their work. Between January to March, 2013, Erik Sille (Slovakia) came to Japan, and between March and May Juka Araikawa from Japan went to Košice, both undertaking new work presented in exhibitions while also deepening cultural exchange in respective cities. The successes of this exchange lead to the program's development in a second phase, where Kanai Manabu undertook a 3-month residence in K.A.I.R. between October and December, 2014, while a residence by Slovakian artist Boris Sirka is planned between October and December in 2014.
manabu kanai report & talk.pdf
| | |
| --- | --- |
| Date | 2014.03.05 - 2014.03.09 |
| Time | 12:00-19:00(last day until 17:00) |
| Place | Gallery |
Events
Activity Report: March 9 (Sun) 15:00 ~  ◆Organized as part of "Thank You Art" Day