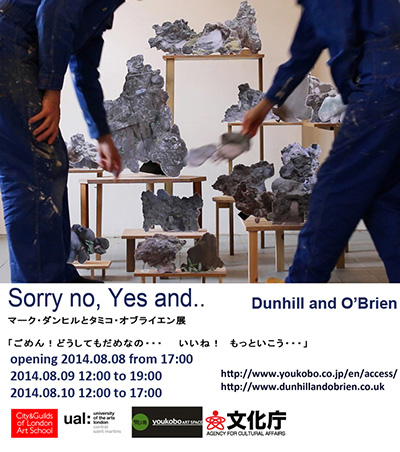 Mark Dunhill and Tamiko Obrien [UK]
2014.08.08 - 2014.08.10
Dunhill and O'Brien have been working collaboratively since 1998, they are based in London, UK. They have been involved in exhibitions in galleries and project spaces in the UK, Ireland, Holland, Italy, Germany and Japan and have participated in residencies including the British School at Rome and the European Ceramic Work Centre s'Hertogenbosch, Holland.
Dunhill and O'Brien also edit and direct the research portal: Collaborative Arts (www.collabarts.org) that investigates the nature of, and issues related to, collaborative art practice through essays, links, interviews and a timeline.
During their residency at Youkobo Art Space the two will be developing a project investigating Fujitsuka (mounds made to resemble mount Fuji) and Suiseki (decorative stones). They joined in a joint program with the O Jun painting lab and Shinji Ohmaki sculpture lab of Tokyo University of the Arts to develop a week of workshops for graduate students to consider the action of collaboration which will also contribute to Youkobo's microresidence research.