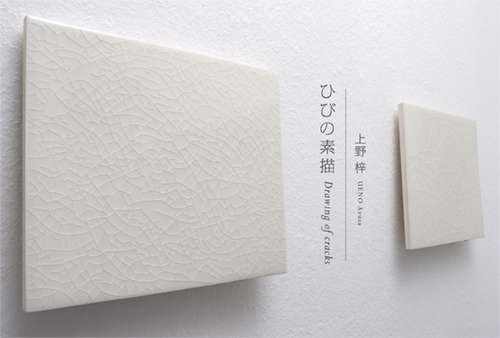 Azusa Ueno [Japan]
2014.09.20 - 2014.09.28
This is the solo exhibition of Azusa Ueno who creates installations using clay and paper which draw attention to time, and the lines and structures that occur between intention and chance.
The work in this exhibition will focus on the theme of "crazing"*, the cracks that occur on the glazed surfaces of ceramics.
Sketches of cracks that will gradually appear as noise is made will record the time of the space and viewer through a unique rhythm.
*"Crazing" is a term referring to the cracks occurring on the surfaces of ceramics. Caused by the leaking of water, crazing is essentially considered to be a defect. However, due to the aesthetic quality of the cracks, it can also used as a decorative technique in ceramic ware. Crazing can also occur unexpectedly after years of using ceramic utensils.
Azusa Ueno
Born in Tokyo
Studied ceramics at Okinawa Prefectural University of Arts before completing an MFA at University of Arts Bremen. In 2008 she stayed in Germany after being awarded an artist grant by the Pola Art Foundation.
Exhibitions include "POLA MUSEUM ANNEX2013" and "JART3rd" WAHCenter (New York) in 2013, "Material Line" (Pepper's Gallery) in 2010, and the solo exhibition "Zeitlinien" (Pulverturm, Oldenburg, Germany) in 2009.
| | |
| --- | --- |
| Date | 2014.09.20 - 2014.09.28 |
| Time | 12:00〜19:00(9/20 13:00 open、9/28 17:00 close) |
| Place | Youkobo Art Space Gallery |
| Website | http://www.azusaueno.com |
Events
9/20 17.00- Opening Reception and Talk with Artist.