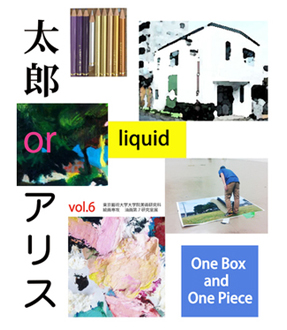 O JUN, Kai Nakayama, Mihoko Sasaki, Sabrina Horak, Risa Kure, Shinichiro Koromo, Wataru Ozu, Yusi Suga, Aru Sunaga, Najmun Nahar Keya, Ryusei Akaike, Kenshu Shintsubo, Asuka Hoshino, Jaeger Ernst Yohji, Shiori Higashiyama, Chen Lu, Erik Bauer, Shiori Higa [Various nationalities]
2015.05.01 - 2015.07.12
※In preparation
※The exhibition dates may be subject to change. Please contact the gallery before your visit.
One hears that in different parts of the world, rivers and lakes are caused to appear temporarily due to changes in the seasons, climate or environment. Time, space and scale are fixed, yet such phenomena can alter the scenery surrounding us in an instant. Though fortunate enough not to have met such experiences, our memories and impressions of our surroundings are nevertheless subject to change. This sight comes to mix within the boundaries of the landscapes before us, causing our lives to flicker.
On this occasion, the Youkobo gallery space is being used by numerous artists as a space for production, as open studios and, at times, for exhibitions throughout the duration of the project. For the next two months, our activities will cause fluid transformations at Youkobo.
OJUN No.7 Lab, Tokyo University of the Arts
This exhibition has been realized as part of the London/Tokyo Y-AIR Exchange Program 2015, a trial based on a collaboration between Youkobo Art Space, the No.7 Lab (OJUN Lab) of Tokyo University of the Arts, and the Associate Studio Program of Central Saint Martins College, London.
Events
1)One-day Exhibition, directed by Mihoko Sasaki|Artists: Ryusei Akaike, Mihoko Sasaki|Exhibition period: 5.17 (Sun) 13:00-19:00         2)Letter|Artists: Lydia Davies, Mihoko Sasaki, Risa Kure, Shinichiro Koromo, Najmun Nahar Keya,|Exhibition period: 6.3 (Wed)-6.7.(Sun) 13:00-19:00        3)Little Solo Expo|Artists: Sabrina Horak|Exhibition period: 6.10 (Wed)-6.14.(Sun) 13:00-19:00   4)From 3F|Artists: Rinzo Yamashita|Exhibition period: 6.24 (Wed)-6.28.(Sun) 12:00-19:00
Liquid_Turpentine |Artist: Kenshu Shintsubo|Exhibition period: 7.1(Wed) - 7.4(Sat)12:00-19:00★Closing Party7.3(Fri)17:00~19:30
【NEXT】 Panoramic feelings|Artist: Najmun Nahar (Bangladeshi)|Exhibition period: 7.8 (Wed)-7.15(Wed) 13:00-19:00 (last day till 17:00)|Opening Reception: 7.10(Fri)18:00-  My paintings are all about my mind-set that sense day by day from the surrounding. I compare the entire incidence of my memory that I passed, with my present feelings in this current society and the city I am living now. I am trying to express all of my feelings through my paintings using different media. For my first solo show at Youkobo art space, I will present some of my recent art works.