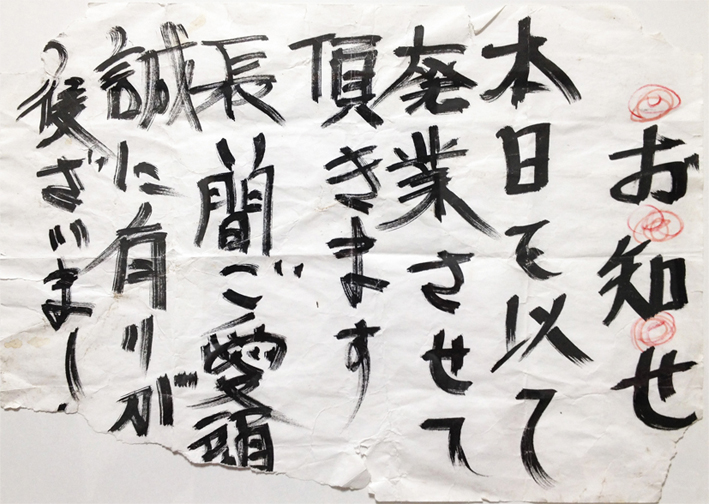 MIEZARUTE [UK|Japan]
2015.12.09 - 2015.12.20
MIEZARUTE (the invisible hand) is an artist unit formed in 2014 by Anglo-Japanese creative duo Adam Smith and Keiko Takahashi. Embracing nihilism and anarchism with humour and charm, MIEZARUTE's DIY ethic takes in varied modes of expression, including mixed-media installation and performance.

SAYONARA
The first solo exhibition by MIEZARUTE (the invisible hand).
The unique specialness of Japan as found in garbled Japanglish apartment names and t-shirt slogans, Japanese characters in Hollywood movies, the beauty of a closed-down pachinko parlour, and more, expressed through photography, video, and installation.
"Saying goodbye to the past us damn tough, but it's vital if Japan wants to move forward to the future."
- R. Cannon

Adam Smith
2009 Chelsea College of Arts, MA Fine Art
2006 Chelsea College of Arts, Postgraduate Diploma
2002 Winchester School of Art, BA Fine Art
Keiko Takahashi
2009 Chelsea College of Arts, MA Fine Art
2006 Musashino Art University, BA Department of Design Informatics
Solo Show
2015 「SAYONARA | サヨナラ」Youkobo Art Space(Tokyo)
Group Show
2015 「The Research Associate Exhibition 2014」Musashino Art University Museum & Library(Tokyo)
2014 「The Research Associate Exhibition 2015」Musashino Art University Museum & Library(Tokyo)
「SICF15」Sprial(Tokyo)
Events
OPENING RECEPTION :13 December 18:00-20:00