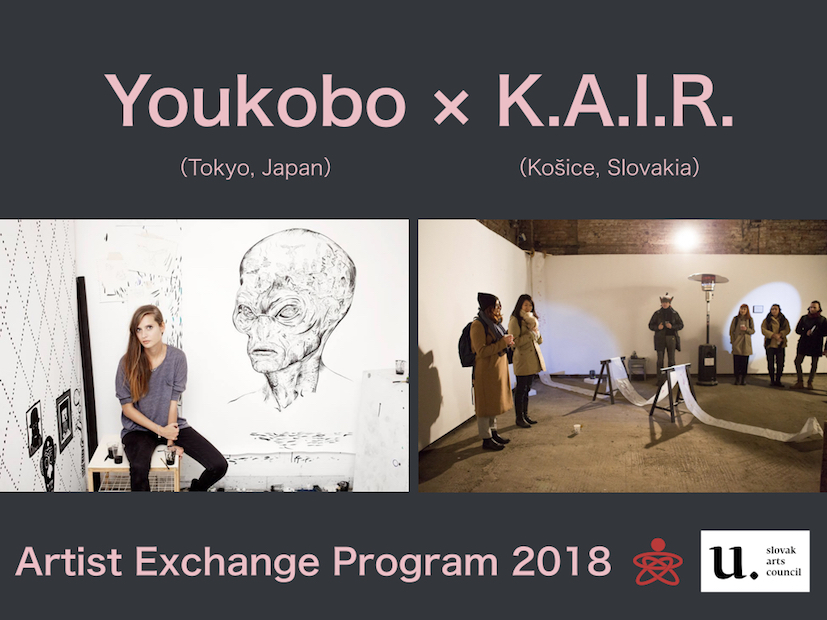 Tomoko Hojo (at K.A.I.R.), Svetlana Fialová (at Youkobo in December- January) [Japan, Slovakia]
2018.10.01 - 2019.01.31
Artist Talk by residency artists and artists who joined our AIR exchange program
<1/25 16:00〜18:00>
Tetsuro Kano × Antti Nyyssölä|FASF, the Finnish Artists Studio Foundation, Helsinki
? Tomoko Hojo × Svetlana Fialová|KAIR, the Kosice Artist-in-Residence, Kosice, Slovakia
>>Reservation required (max. 15 persons).
Please send an e-mail to info@youkobo.co.jp, including your name.
Artist exchange program between Japan and Slovakia, organized by Youkobo Art Space and K.A.I.R. Košice Artist in Residence.
October - November, 2018 Tomoko Hojo at K.A.I.R. (Košice, Slovakia)
December,2018 - January, 2019 Svetlana Fialová at Youkobo Art Space (Tokyo, Japan)
| | |
| --- | --- |
| Date | 2018.10.01 - 2019.01.31 |
| Time |                                                  |
| Place | at K.A.I.R. in November 11月にスロバキアにて|at Youkobo in January, 2019 東京での展示は2019年1月 |
| Website | http://www.youkobo.co.jp/ |