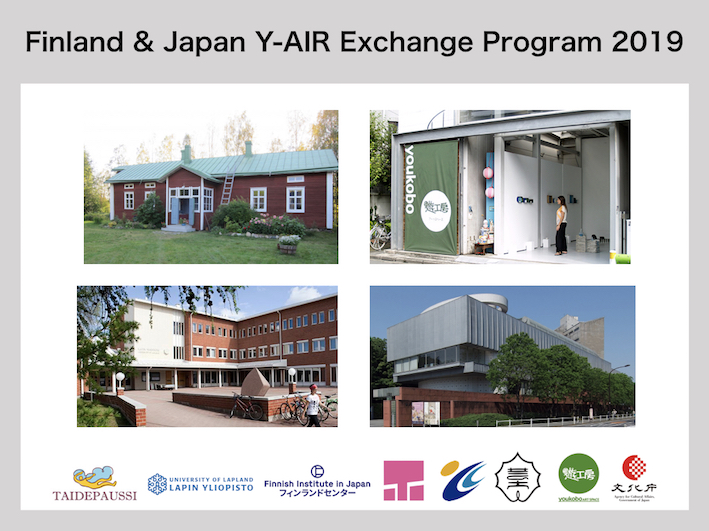 Yuko Takahara, Laura Tahvanainen [Japan, Finland]
2019.07.01 - 2019.11.30
This program started in 2017 with the mutual cooperation of Waria Artbreak AIR (Ii, Finland) and Youkobo Art Space (Tokyo). Activities to promote new attempts to support young artists through collaboration between AIR and art universities in both countries. In 2019, the third year activity, we will hold an ongoing exchange program for young artists, as well as a new workshop between the art universities in both countries and an exhibition of the results in Finland.
1. AIR Exchange Program for young artist, Y-AIR program (July to November, 2019)
・Yuko Takahara from Japan, Residency programs in Waria Artbreak AIR and Lapland University
・Laura Tahvanainen from Finland, Residency programs in 'TENKU Art Festival', Tomi City, Nagano.
2. VALO HIKARI Project
Exhibition of a collaborative workshop by University of Lapland and Tokyo University of the Arts
・Workshop: 21 to 31 August, 2019
・Exhibition: 1 to 22 September, 2019 at Gallery Valo, Arctic Centre Arkitum, Rovaniemi
・Artsits:Tom Engblom, Lauri Hakala, Toyomi Hoshina, Takuya Inoue, O Jun, Kalle Lampela,
     Anni Nuotio, Fumio Ohashi, Juha Seppälä, Meo Saito, Yuko Takahara

This Y-AIR exchange program is a part of cultural program of Finnish Institute in Japan.
| | |
| --- | --- |
| Date | 2019.07.01 - 2019.11.30 |
| Time | フィンランド:「VALO HIKARI 」9月1-22日、日本:「天空の芸術祭」10月12日〜27日 | "VALO HIKARI" in Finland : September 1-22, TENKU Art Festival in Japan : October 12-27 |
| Place | フィンランド:Gallery Valo, Arctic Centre Arkitum, Rovaniemi 日本:天空の芸術祭(長野県東御市)| Finland: Gallery Valo, Arctic Centre Arkitum, Rovaniemi Japan: TENKU Art Festival, Tomi city, Nagano |