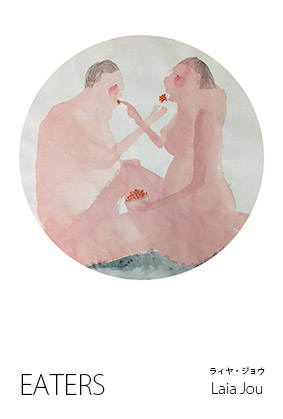 Laia・Jou [Spain]
2013.10.24 - 2013.10.27
The starting point of my work is my inner world, I nourish from what surrounds me, from the things that arouse my curiosity and from what excites me. I try to perform these feelings on paper through the water, accompanying it in its course in the search for form and image, playing with the matter and the support to observe how unexpected textures are generated, each time in a different way, observing how they transform during the process.
In this works I wanted to focus on revealing intimate moments and sensations concerning the different forms of feeding of some characters who show, just like that, naked, how they relate to food: alone, together, tasting it, devouring it, sharing it, playing or experiencing the sensuality of feeding the bodies...

The act of eating connects us to people with whom we share this ritual, from the mother who feeds her baby, to a romantic dinner with someone you love, or a family meal; connects us to ourselves in that intimate moment alone in which we give us a small nutritive pleasure; connects us to a specific place, to its smells; connects us to that specific moment and somehow are engraved on our memory all those feelings and emotions that we experience ...
Like salmon are born in fresh water, migrate to the ocean and are said to be able to return to the exact spot where they were born due to their olfactory memory, going upstream, to spawn and then die... When we've enjoyed a meal, after a few days or from that precise moment we feel a pressing need to repeat that act of pleasure and relive those feelings, we would go up a river if required to taste gastronomic delights and some even would die from epicurean pleasure surfeit.

Events
2013.10.24(Thu):18:00-  Opening Party &Artist Talk