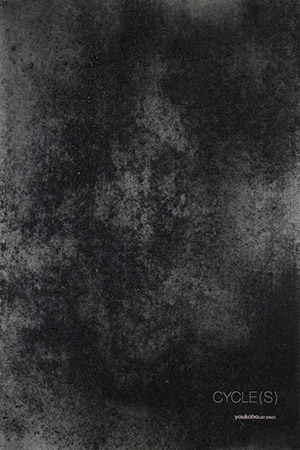 Arnaud・Gallizia [France]
2013.10.19 - 2013.10.27
Based on the research of Michel Pastoureau on the colour black, Arnaud Gallizia produces his own black from different burned woods and barks, which he uses in combination with washi paper pulp to experiment in new black and white drawings (presented here for the first time).
In his images, he makes reference to "black from the origins, a fertile and fecund black, combined (associated) with the symbolic of certain places, such as caves and all the natural places that seem to communicate with the entrails of the earth : caves, sinkholes, underground tunnels or cave galleries. These are fertile crucibles, places of birth and metamorphoses, receptacles of energy."
The artist also explores the idea of cycles in his work. The cycle of wood, which becomes paper or coal, used to fertilize the earth; the cycle of his drawings, turned to ashes or pulp to produce new pieces; and finally, the natural cycle, to which parts of his drawings return to, through the affects of wind or rain. Each drawing becomes the fragile witness of these three cycles.
Youkobo_Catalog_2013_09_Arnaud_Gallizia.pdf
| | |
| --- | --- |
| Date | 2013.10.19 - 2013.10.27 |
| Time | 12:00-19:00 (Last day till 17:00) |
| Place | Studio 1 |
Events
2013/10/19(Sat) 18:00- Opening Party
2013/10/26(Sat) 18:00- Artist-Talk