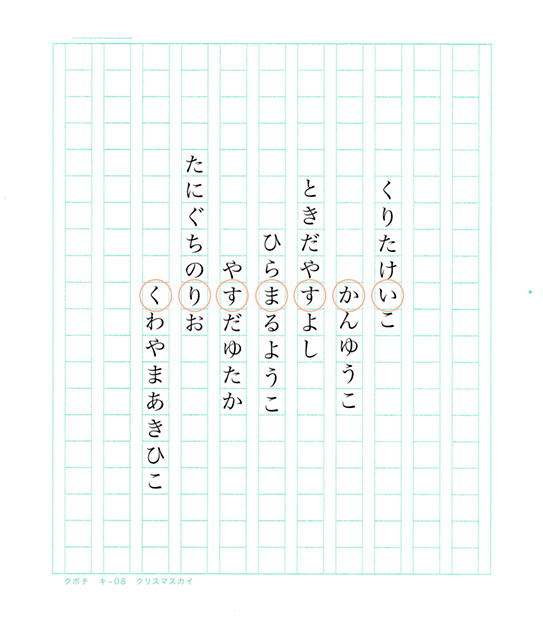 Akihiko Kuwayama, Norio Taniguchi, Yutaka Yasuda, Yoko Hiramaru, Yasuyoshi Tokida, Yuko Kan, Keiko Kurita [Japan]
2014.12.10 - 2014.12.23
Kubochi will be holding the Christmas Exhibition, KU RI SU MA SU KA I for its eighth organized show.
In this group exhibition, Kubochi artists Akihiko Kurayama, Yutaka Yasuda, and Yoko Hiramaru will be joined by four artists who have attracted the attention of the Kubochi group.
Painter Norio Taniguchi freely combines paper and wood surfaces with techniques such as printmaking to create work that attempts to show directly the vitality of linear forms specific to drawing.
Printmaker Yutaka Yasuda expresses on paper the interesting forms that arise when pattern paper and woodblock prints are used in combination.
Printmaker Yuko Kan uses woodblock prints in the form of collage, portraying on single sheets of paper a personal world of familiarity and fantasy through her unique rhythm.
Photographer Keiko Kurita presents a fantastical reality as "a fantasy the existence of which is certain in a desire to believe in its truth", captured by the single shutter of a pinhole camera.
From painting and sculpture to printmaking and photography, invigorating works that will warm up the cold season have been gathered together to end the first year of Kubochi. Previous participants in Kubochi's exhibitions, and those new to their activities are invited to join the last Kubochi event of 2014.
Akihiko Kuwayama/Kubochi
Closed ■ 12.05 (Mon), 16 (Tue), 22 (Mon)
Events
Opening Party: 12/13 sat. 18.00-20.00
Christmas Party: 12/23 Tues. 18.00-20.00