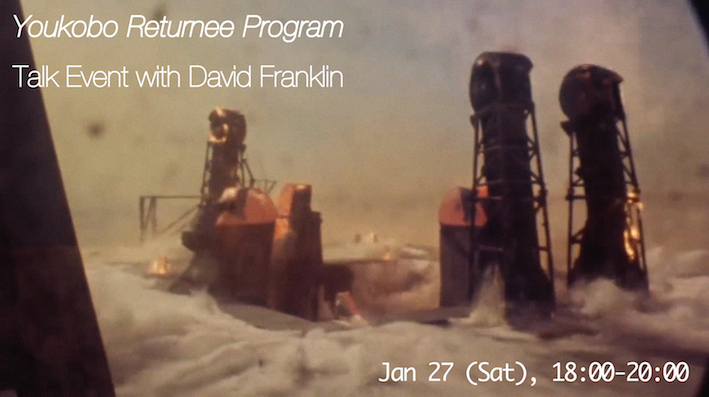 David Franklin [Irish/living in Barcelona ]
2018.01.27 - 2018.01.27
In this talk event, which will serve to conclude the first leg of the Youkobo Returnee Residence Program, returnee artist David Franklin will be invited to talk with the audience about his latest research conducted at Youkobo through December and January, in relation to his experiences during his first residency at Youkobo in 2009.
Following his presentation a discussion will be held to discuss, among other things, the significance of residencies for users and hosts, the changing needs of artists and recent trends seen in new residency models, in addition to David's experiences of participating in residency programs, including his ongoing research residency at the National Art Museum of Catalonia, in Barcelona.
*Free admission.
*Reservation required (max. 25 persons). Please send an e-mail to info@youkobo.co.jp, including your name.

=======
Youkobo Returnee Residency Program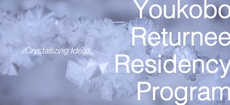 *Exhibition : 24-28th January, 2018
Artist residencies play a vital role in artists' creative practice, offering spaces for experimentation in a supportive environment that help artists to explore and connect in meaningful ways to different cultures and surroundings. This leads to new discoveries that crystallize—often at some indeterminate later stage in the artists' career—in new forms of creation.

To celebrate and reflect on 30 years of hosting and supporting art professionals, Youkobo Art Space has launched the Youkobo Returnee Residency Program, which invites artists who have previously undertaken a residency at Youkobo to further develop their creative research. In this, the first leg of the program, visual artist David Franklin will stay in Tokyo for a two-month residency.
Artist Introduction :
Barcelona-based visual artist David Franklin first joined the Youkobo residency program in 2009, staying for eight months to develop a significant body of work based on research that covered a wide range of themes: urban ruins, Butoh, Japanese painting and post-war culture, among others. For his second residency at Youkobo, David plans to initiate a new long-term project exploring the connections between landscape and society, specifically in relation to the Japanese context. This residency will build on David's ongoing work, which explores landscape from the perspective of visual language, and how the development of artistic techniques throughout art history has been influenced by technology as well as social and geographical factors.

The residency will conclude with an exhibition of work in progress, in addition to a talk event in which the artist will be invited to share his experiences of both residencies at Youkobo, followed by a broader discussion of the significance of artist residencies in the creative work of artists.
Supported by the Agency for Cultural Affairs Government of Japan in the fiscal 2017