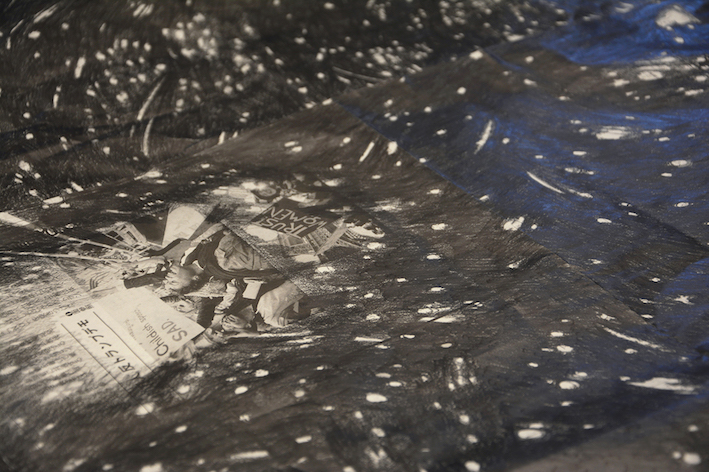 Sumi Kanazawa [Japan/South Korea]
2018.04.11 - 2018.04.28
An installation involving hundreds of drawings that I have been making on newspapers since 2009.
It all started with a piece of scribble.
Taking to hand a pencil that was rolling on the desk and roughly blacking out the face of a politician waving his hand next to a letter announcing the change of government, beautiful things unexpectedly appeared.
This act of erasing what was written on the newspaper unintentionally created a screen like a starry sky.
Though not especially beautiful, this visual happening occurring as a result of the articles' disappearance took my breath away.
It was like the feeling of seeing innumerable stars that had been buried under the streetlights, barely visible.
Something that should be visible but had gone unnoticed had seemingly emerged in front of my eyes.
This work illuminates what we are hardly aware of in our world, things that are gradually being erased in daily life.
===
Profile:
Born as a Korean national in Hyogo, Japan in 1979.
Recent exhibitions include Excellence Award of the 6th New Artists Competition Exhibition (Kawaguchi Art Gallery ATLIA, Saitama, 2017), BankART Life IV -Dreams of East Asia- (BankART Studio NYK, Kanagawa, 2014), INTERVIEW: 525,600 Hours of Baengnyeong-do (Incheon Art Platform Baengnyeong-do Peace Art Residency, South Korea, 2013).