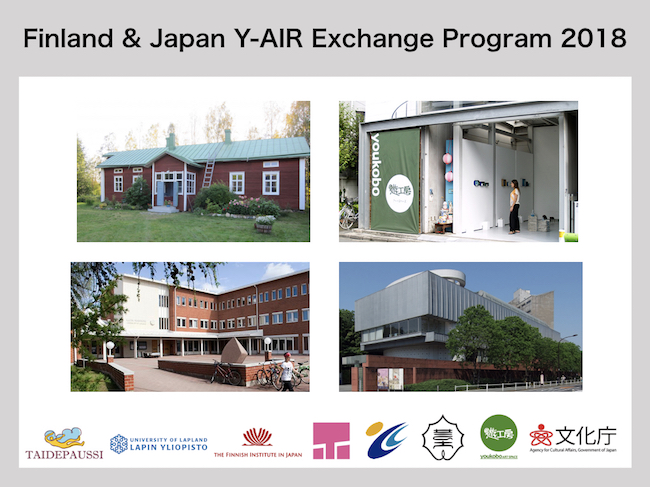 Chie Kamekura (in Finland), Venni Ahberg (in 'TENKU Art Festival', Tomi City) [Japan, Finland]
2018.06.01 - 2018.11.30
・Periods in 2018: June to November 2018
June, Visiting and meeting in Lapland, Finland, to Lapland University and related venues and meetings
Prof. Toyomi Hoshina of Tokyo University of the Arts, Tatsuhiko and Hiroko Murata of Youkobo
Prof. Jaana Erkkila of Lapland University, Kaisa Keratar and Antti Ylonen of Waria Art break
July to November, Reisdency activities in both country
Chie Kamekura from Japan, Residency programs in Waria Artbreak AIR, Ii, 'Arctic Art Week', Kakslauttanen Arctic Resort and Lapland University, Rovaniemi.
Venni Ahberg from Finland, Residency programs in 'TENKU Art Festival', Tomi City, Nagano and research programs in Tokyo University of the Arts and Finnish Institute in Japan and Youkobo Art Space, Tokyo.
・The proposed project is principally coordinated by Youkobo Art Space located in Tokyo, Japan in partnership with Art Break, located in Ii, Finland.
Art University and AIR cooperation based exchange program between Japan and Finland stared from 2017. The program focus on exchanging young and emerging artist/researchers, and common theme and approach is to be environmental art, local culture, craft and design using materials from the nature. First year and piloting case held in Autumn 2017, Erica Masuya, Japanese young researcher/artist to North of Finland, Tuija Teiska, Finnish young artist/researcher to join TENKU Art Festival, Tomi City, Nagano and research in Tokyo.
Y-AIR exchange is part of cultural program of Finnish Institute in Japan.

| | |
| --- | --- |
| Date | 2018.06.01 - 2018.11.30 |
| Time |                    |
| Place | in Ii City, Finland イー市他|in Tomi City, Japan 東御市での展示9-10月 |
| Website | exb_artist_url |