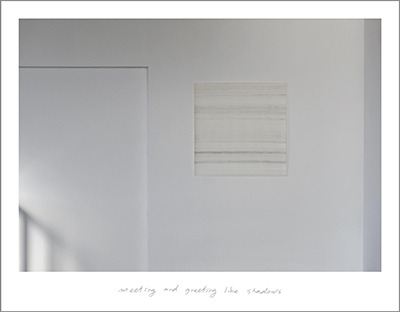 Utako Shindo [Japan]
2021.02.17 - 2021.02.27
'meeting and greeting like shadows'
how you draw a line,
how drawing becomes shadow
before dawning,
towards evening
after we meet,
since we greet
Born in Tokyo, 1980, Utako Shindo works internationally for her scholarly and artistic pursuit of 'the untranslatable'. Her recent works explore 'shadow' in nuanced shade/light (Nohtan) and line drawn as they 'transfer' (utsuru in Japanese, indicating variants on transfer: trace, reflect, project and emerge) between darkness and light. Since 2003, her installation artwork, often comprised with drawing, photography and video, has been exhibited in Australia, Japan and Mexico. Utako conducted the multifaceted collaborative project, Immanent Landscape (2010-2012), convening artistic and educational programs in Japan and Australia. Her interdisciplinary Ph.D. (2013-2017) through the University of Melbourne's Centre for Ideas, investigated the art's embodiment of 'the untranslatable'. Her yearlong research and creative project (2019-2020) in New Mexico, USA, with fellowship support from Agency of Cultural Affairs, Japan, sought a deeper understanding of Agnes Martin's 'abstract expression'. From December 2021, as a resident artist at Youkobo Art Space, Utako has been making a body of new work that summarizes her explorations of the recent years. This will be presented at this exhibition, 'Meeting and Greeting Like Shadows'.
Special exhibition website will be launched on the 17th for the remote viewing, introducing.
A special exhibition/residency brochure will be available from the 20th, published by Youkobo Art Space, featuring.
Online Artist Talk : Saturday, February 20, 12:00 - 13:00
Utako Shindo with guest, Linda Swanson(Artist, Educator, Writer, Director of Forde Visser Archive)
*Zoom Meeting Link
https://us02web.zoom.us/j/85791129328?pwd=amNFanByS2FlZDdWT3BHb3UxT1ZIUT09
To prevent infection with the new coronavirus, visitors are requested to wear a mask, measure the temperature, and fill out the sheet when visiting the venue. In addition, please refrain from visiting those who are in poor physical condition such as having a cold or fever.
We apologize for any inconvenience, and thank you for your understanding and cooperation.