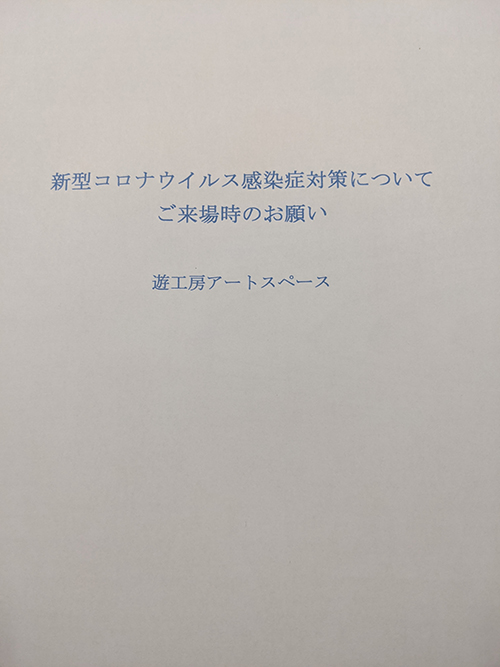 Youkobo Art Space [Japan]
2021.02.17 - 2021.09.30
At Youkobo Art Space, we will respond to visitors as follows to prevent infection with the new coronavirus.
We apologize for any inconvenience, and thank you for your understanding and cooperation.
〇 On the day of your visit, please measure your body temperature at home, etc., and refrain from visiting if you have a cold-like symptom such as fever higher, cough, or sore throat.
〇 We will measure the temperature with a non-contact thermometer at the entrance of our space. Thank you for your cooperation in temperature measurement. (As a result of temperature measurement, if a fever higher is confirmed, admission will be refused.)
〇Please wear a mask.
〇Please disinfect your hands and fingers with alcohol disinfectant at the entrance of our space.
〇 When entering the space, please fill out the attached "Youkobo Reception Slip" at the entrance to prevent the spread of the new coronavirus infection .
If an infected person occurs in the building, the personal information on the reception slip will be submitted to the health center.
(The Slip form is below attached. You may print this PDF and bring the one you filled out on the day of your visit.)
〇 If you are visiting the space, please record the date and time of your visit.
〇 If you develop a new coronavirus infection within 2 weeks after your visit, please contact us by e-mail immediately. Youkobo Art Space e-mail: info@youkobo.co.jp
〇 When the space is crowded, admission will be restricted to avoid crowding and close contact.
〇 Please note that the staff will wear masks, rubber gloves, face guards, etc. when dealing with customers.

| | |
| --- | --- |
| Date | 2021.02.17 - 2021.09.30 |
| Time | 12:00-19:00 |
| Place | Youkobo Art Space |